HOME Report
The HOME (Housing Ownership Models Evaluation) Report is the result of research by the HOME sub-committee of the Affordable Housing Coalition of York Region (AHCYR). This report showcases alternative affordable housing models, all of which can offer home ownership solutions.
We hope this report sparks a conversation about the need for affordable homeownership in Canada and leads to its development throughout the country.
We use a comprehensive 4A's Assessment Scorecard to compare each model and conclude this report with recommendations aimed at enabling and supporting the development of alternative, affordable homeownership.
This report highlights that there is not a single, obvious solution to the enormous issue of affordable homeownership in Canada, but rather a variety of small and innovative community-based solutions driven by affected communities. The findings of this report can play a key role in creating awareness and motivating future work and efforts in this key area.
Click here to read our recommendations for York Region staff.
Imagining Our Communities in a Just Recovery
The COVID-19 Pandemic had a disproportionate impact on marginalized and vulnerable people. As we plan a recovery, York region organizations have been imagining new models that address these vulnerabilities to make us more resilient in the face of the next wave or the next pandemic.
On June 22, 2020 over 80 individuals including a diversity of not-for-profit organizations in York Region came together to discuss the way forward for a Just Recovery from COVID19. This meeting brought about extensive discussions on critical topics that should shape the way we imagine a just recovery.
Click here for a summary of the meeting held on Monday, June 22, 2020, which will be used as the basis for community meetings on each of these topics as we work to build a resilient community for all of us.
Click here for our final report that will guide our advocacy efforts with elected officials in the coming weeks and month.
CLICK HERE to endorse the 'Reimagining a Just Recovery Plan in York Region'
Click here the for Just Recovery Partner Letter that you can share with your colleagues inviting them them to join this work.
Click here for a template letter and/or phone script that you can adapt or use in contacting your MP and/or MPP.
Action on Poverty Profiles
The "Action on Poverty" profile series represents a joint effort on the part of Social Planning Toronto (SPT), SPCYR, and other Social Planning Councils across Ontario to create public education resources intended to raise awareness about poverty and the conditions that contribute to its growth. Each Profile contains facts and figures about poverty and the challenges being faced by various groups impacted by poverty in each of York Region's seven provincial/federal ridings.
By highlighting the work of community groups, service providers and advocacy groups, each Profile also shows how communities are coming together to challenge poverty. These stories demonstrate the diversity that exists in anti-poverty initiatives, including systemic advocacy work and innovative community programs taking place in each community and across the region as a whole.
"Behind the Masks" Testimonials from Those Marginalized by Income
In 1986, the Ontario government appointed the Social Assistance Review Committee (SARC) an independent group, to study, consult and make recommendations on the future of social assistance in Ontario. The Interfaith Social Assistance Reform Coalition's (ISARC) first mandate was to provide advice to SARC. Since that time ISARC, along with other concerned and committed groups, has advocated in support of the original recommendations made by SARC, for an adequate, accessible, fair and accountable, social assistance system. ISARC brings together representatives and members of faith groups to discuss the root causes of poverty, addressing issues of hunger, and homelessness in Ontario.
In late 2009, the Poverty Action for Change Coalition (PACC), a grassroots poverty group working to eliminate poverty in York Region, inquired about hosting an ISARC hearing for the first time in York Region. ISARC accepted and the hearing took place in the spring of 2010. A Planning Table involving a wide range of community organizations, front line staff, concerned residents, faith groups and individuals with lived experience of poverty, was soon formed under the leadership of Co-Convenors Tom Pearson (Chair of PACC) and Yvonne Kelly (Program Coordinator, York Region Food Network). On April 20th, the York Region Audit hosted two forums in Newmarket and Richmond Hill and received 23 individuals who came to talk about their experiences living in poverty. Several participants that day commented how they had felt welcomed, comfortable and left feeling that what they had to share was valued and important. Three focus groups were also held to glean additional information about the impact of poverty in York Region.
The intent of the Social Audit Report is to capture the true life experiences and themes that came out of the stories and focus groups and to share this information for the purpose of informing policy and program development and raising general awareness about the root causes, costs (individual and societal) and impacts of poverty.
COVID 211 Connections By Region
Central 211 collects information about calls/chats/texts/emails and web sessions from Toronto, Durham, Peel and York Regions. This information is anonymized for purposes of confidentiality and privacy. Learn more about what is being heard in your community through these Regional Snapshots. Snapshots are being updated biweekly, so check back often. To access all of the snapshots, click here. 
York Region COVID-19 Report | June 26 – July 2, 2020 
Affiliate Organizations
The Social Planning Council of York Region partners with many other organizations in our community. Some of these organizations we are a formal member of and other we just work closely with on projects and intiaitves

The Social Planning Network of Ontario
The SPNO is a coalition of social planning councils, community development councils, resource centres and planning committees in various communities throughout Ontario. Member organizations have their own mandates but are connected in the cause of affecting change on social policies, conditions and issues.
For more information click here 

Canadian Centre for Policy Alternatives
The Canadian Centre for Policy Alternatives (CCPA) is an independent, non-partisan research institute concerned with issues of social, economic and environmental justice. Founded in 1980, the CCPA is one of Canada's leading progressive voices in public policy debates.
The CCPA produces the research and analysis necessary for policymakers, activists, and everyday Canadians to make informed decisions and press for social change.
For more information click here

People for Education
People for Education is a unique organization in Canada: independent, non-partisan, and fuelled by a belief in the power and promise of public education. We create evidence, instigate dialogue, and build links so that people can see — and act on — the connection between public education and a fair and prosperous society.
For more information click here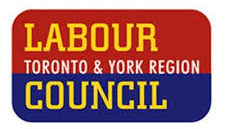 Toronto & York Region Labour Council
Since 1871, the Labour Council has championed principles which improve the lives of its members and their communities. Today, we work for justice in our workplaces, in our politics, in our communities, and in our world.
The core belief of unions is in solidarity. We want every one of our members to feel they belong, to appreciate the gains that unions have made for working people, and to have a sense of our common purpose. For all of us, fairness matters. Winning union members to embrace those common values is one of the most important tasks we have.
It is in that context that we address the challenge of tackling systemic racism and building stronger unions.
By working together, we can nurture inclusive workplaces and strengthen our shared commitment to our union's shared values of equality, respect, justice and dignity for all.
For more information click here

Labour Community Services
Labour Community Services is committed to achieving a just and equitable society for all.
The Labour Community Services of Metropolitan Toronto Inc. was created as an active partnership between United Way and the Toronto Labour Council. The intent was to build a continuous alliance that would bridge community outreach with labour activism, which often share the same goals.
Our aspirations are simple but high. We believe that in order to attain a society wherein everyone is able to fully to participate, we must set lofty goals.
Since its inception more than 60 years ago, LCS has not missed an opportunity to work alongside prominent community groups to fulfill its mission.
Over the years, our staff has continued to chair George Brown College's Community Program Advisory Committee, which connects with post-secondary institutions as they prepare students to work in the community social services sector. We know that good employment options can be the key to transcending poverty, which is why the work we do with Good Jobs For All is essential, such as our advocacy for changes to Employment Insurance. Working with union leaders in York Region, we are leveraging their capacity to address social issues as part of the full development of York Region Social Planning Council.
For more information click here. 

211Central.ca is a service of Findhelp Information Services (Findhelp).
Findhelp first served the residents of Toronto in 1952 as the Community Information Centre of Metropolitan Toronto, and over the decades increased its scope by helping Ontarians in diverse ways. Current services include:
24/7 Community Information and Referral helplines
211 service providing Information and Referral (I&R) for callers to community and social services 24/7 for Central Region (Toronto, Peel Region, York Region and Durham Region), and overnight and on weekends for the rest of Ontario: Dial 2-1-1
Specialized websites and directories
211Central.ca, a website of over 20,000 community, health, social and related government services – a reliable resource for anyone looking for human services in Toronto, Durham, York or Peel.
Professional Training
With a continuing commitment to professionalizing the delivery of information and referral, presentation of three foundation training workshops: Information, Referral and Communication Skills; Understanding the Human Services System; Preparation for AIRS Certification and customized sessions
For more information click here.